Do not wear anything or put anything on the horse or rider that jiggles, flaps, or waves. This includes loose hair or hair ribbons, flapping ties or fringe, dangling earrings and unpinned numbers. All of these are very distracting to the judge, especially not being able to read a rider's number. If a rider trims their number card, care should be taken to not reduce the size so that the judge can easily read the number. Pinning numbers both top and bottom as well as from inside the shirt or jacket will make a smoother picture.
Collar Bars (may also be referred to as Eyelet Pins or Collar Pins)




Just a few examples of Collar Bars
A collar bar is a small metal rod, used to hold opposite sides of a shirt collar firmly in place and to give a slight lift the knot of the necktie. Collar pins are typically 4 to 5 centimeters long and is in the form of a rod with screw-on ends that can be used only with shirts whose collars have holes designed for that purpose. Collar bars now reflect the ultimate in sophisticated dressing. Without the collar bar, collars without reinforced tips could flare up like butterfly wings. A collar bar is an elegant solution, providing an exquisite touch to your suit to look sharp and dignified. In addition, collar bars serve to elegantly prop the knot of a necktie into position, giving it an equally sharp and refined look. Use clamp-on bars with any fold-down collar shirt that does not have eyelets in the collar. Screw-on "cubes" are often preferred because they don't "roll away" when dropped.
A cufflink is a decorative fastener worn to fasten the two sides of the cuff on a dress shirt. Cufflinks are designed only for use with link cuffs (also known as French Cuffs), which have buttonholes on both sides but no buttons. These may be either single or double-length ("French") cuffs, and may be worn either "kissing," with the ends pinched together, or "barrel-style," with one end overlapping the other. Kissing cuffs are usually preferred, but your coat sleeves will have to be made slightly wider at the cuff to accommodate the additional width.
Cufflink designs vary greatly. The simplest design consists of a short post or chain connecting two disc shaped parts. The part positioned on the most visible side is usually larger. A variety of designs can connect the smaller piece. It may be small enough to fit through the button hole like a button would, it may be separated and attached from the other side, or it may have a portion that swivels on the central post, aligning with the post while the link is threaded through the button hole and swiveling into a position at right angle to the post when worn. The visible part of a cufflink is often monogrammed or decorated in some way. There a numerous styles, including novelty, traditional, stone-based and contemporary cufflinks. If your formal apparel includes a white vest/cummerbund with white gloves if you do not have custom cufflinks then you'll want to go with the mother of pearl cuff link set. If your formal has a black/navy vest/cummerbund then gold/silver or custom will be just fine.
Cuff Links
and Studs set
Cuff Link Sets provide the finishing touch to your formal attire. Most tux shirts button down the front, but also offer special buttonholes on the four buttons below the neck for the insertion of shirt studs. Shirt studs are small, usually metal objects used to fasten the front of pleated or stiff-front shirts in lieu of buttons. They often have inlays of pearl, onyx or similar materials. These studs usually come in sets of four and should match your cufflinks. You will normally need three and they are therefore usually sold in either threes or fours.
Shirt studs can be divided into two types.
Push through - the stud is made of a single piece of metal and consists of a base, a stem and a head. The base rests against your chest. You then push the head through the left front of your shirt and then through the right thus fastening the fronts of your shirt.
Screw top - the stud consists of a head which screws into the body. To wear: Unscrew the head; push the base through the holes in both sides of the shirt; screw the head back. The head is visible to the outside world; the base rests against your chest. The head of the stud is usually decorated in some way: a pattern on the metal, pearl or mother of pearl, or some jet black material. (The last is particularly appropriate for wearing with black tie.) The head is usually circular but hexagons or octagons sometimes turn up.
Number

Pins
Number pins are to make sure your number can be seen at all times so that the ring steward or judge doesn't have to ask you to adjust anything for visibility. Four number pins are usually needed to secure the number so the judge can see it well. If you are tired of poking holes in your expensive show clothes then magnets are the way to go. With magnets you'll never have to worry about them popping off when mounting or getting ready for a class.
Example of Number Magnets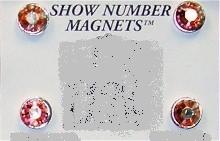 they come in many different colors and designs
Example of some Lapel Pins

A lapel pin is a small pin often worn on the lapel of a jacket. Lapel pins can be purely ornamental or can indicate the wearer's affiliation with an organization or cause. They should be a simple design and conservative size no bigger than 1 inch. The lapel pins also should not have anything on the pin that flaps or moves.
Finally, if earrings are worn, they should be small and also conservative. Small stud earrings are appropriate for all riders. Dangling or large earrings can be distracting and could also pose a risk if the earring gets caught on something.