The line up at Lexington during the Senior

Equitation Championship
Position of Rider
Saddle Seat rider position from the USEF Rule Book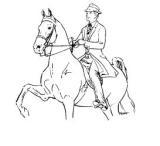 Saddle Seat Equitation differs from the other forms of English Equitation. However, like any other riding style, the position of the rider reflects the desired position of the horse. In Saddle Seat the rider sits behind the horse's center of balance to allow the front end of the horse to be lightened to encourage the natural front leg action. Even though the rider's hands are held higher than other disciplines there is still a straight line from horse's mouth to rider's elbow. The upper body should be straight with shoulders back yet look relaxed not stiff or poised. There should be a straight plumb line from shoulder, hip, heel with toes just under the knees. All should be done elegantly with little unintended motion.
While in Motion
Walk: slight movement in saddle from moving with the horse's gait as to not block movement
Trot: slight lift of seat in saddle when posting from horse's momentum; hips under upper body, not mechanical up down sewing machine motion nor posting toward hands as in Hunt Seat and Dressage
Canter: close seat, hips going with the horse, not pumping or rocking body
Attire
Informal saddle suits must consist of a long single buttoned jacket with a notched collar with matching jodhpurs, collared shirt, vest, tie and complimentary gloves, jodhpur boots and derby or soft hat (protective headgear may be worn without penalty per GR318.4) in conservative colors. Formal saddle suits must consist of a tuxedo type long jacket with a shawl collar and lapel of the same color with matching jodhpurs, formal shirt, bow tie, vest or cummerbund, and matching top hat (women), homburg or other soft hat (men) in conservative colors. Formal riding habits are not to be worn before 6:00 p.m. and are not mandatory after 6:00 p.m.; exhibitors competing on Pleasure horses have the option to wear formal attire in Open equitation classes as specified by the rule. Accessories such as earring and lapel pins should be small and conservative. Fit of attire is acutely paramount.
Tack
Bridle: Full bridles - Bradoon (small snaffle) and Curb. Pelham bits are permitted in Pleasure Equitation Classes. Martingales or similar tie-downs are prohibited.
Saddle: Flat English-type ideally Lane Fox cutback style. Forward seat, Western and side saddles are prohibited.
The Horse
Saddle Seat Equitation horses should be energetic but still responsive to the rider's aids. The horse should be competitive in its division (for example a Saddlebred open Equitation horse should be competitive in the Three Gaited division and a Pleasure Equitation horse should be competitive in either Show Pleasure or Country Pleasure).
A ground-covering smooth walk should not be so strong that its lateral movement creates too much body motion in the rider. A smooth, cadenced trot will be much more attractive than a bone-jarring concussive gait. A smooth flowing canter will enhance a rider's skills rather than the four-beat gait that shakes or vibrates the rider.